Styling an Instagram-worthy home with Creatures of Curiosity
Our obsession with all things wild and wonderful continues with our new collection of Creatures of Curiosity lifestyle accessories. Made for those who love to express their unique sense of style, we've extended the range with a number of key pieces so you can take your love of print on the move.
If you're all about the maximalist styling, just like us, then our Creatures of Curiosity accessories can be layered with your existing décor for a more is more approach. However, if your style prefers a more subtle touch, then the new additions are ideal for adding a pop of print.
Whichever décor trend you lean towards to style your home, Creatures of Curiosity has something for every room and style. Follow our guide for creating an Instagram-worthy home with our mix and match collection.
The Kitchen
The heart of the home for many, make your kitchen a space you truly love. Our new double oven glove makes cooking a stylish event with its mix of vibrant florals and leopard print. Hang over your oven door next to the matching tea towels for an unmistakably Spode twist to your kitchen.
For more hints of eclectic style, have the sugar bowl and matching teapot out on display, and be tea party ready with the Creatures of Curiosity cake slice.
The Dining Room
Dark edgy florals, striking butterflies, and the always-on-trend animal print work together across teaware, glassware, placemats and serving trays to elevate your entertaining game. Perfect for hosting afternoon tea and celebrating big and small. Opt for a tablecloth or runner of your choice – remember more is more, so pattern clashing is encouraged – and layer your Creatures of Curiosity pieces out allowing the mix and match design to steal the show.
For afternoon tea, set the tiered cake stand as the centrepiece, with the teapot, sugar bowl, and cream jug close by. Ensure a cake plate and teacup and saucer for each of your lucky guests, and complement the gold accents on the china with gold-coloured cutlery. With so much to see in the details of the crockery, styling your dining table requires minimal effort.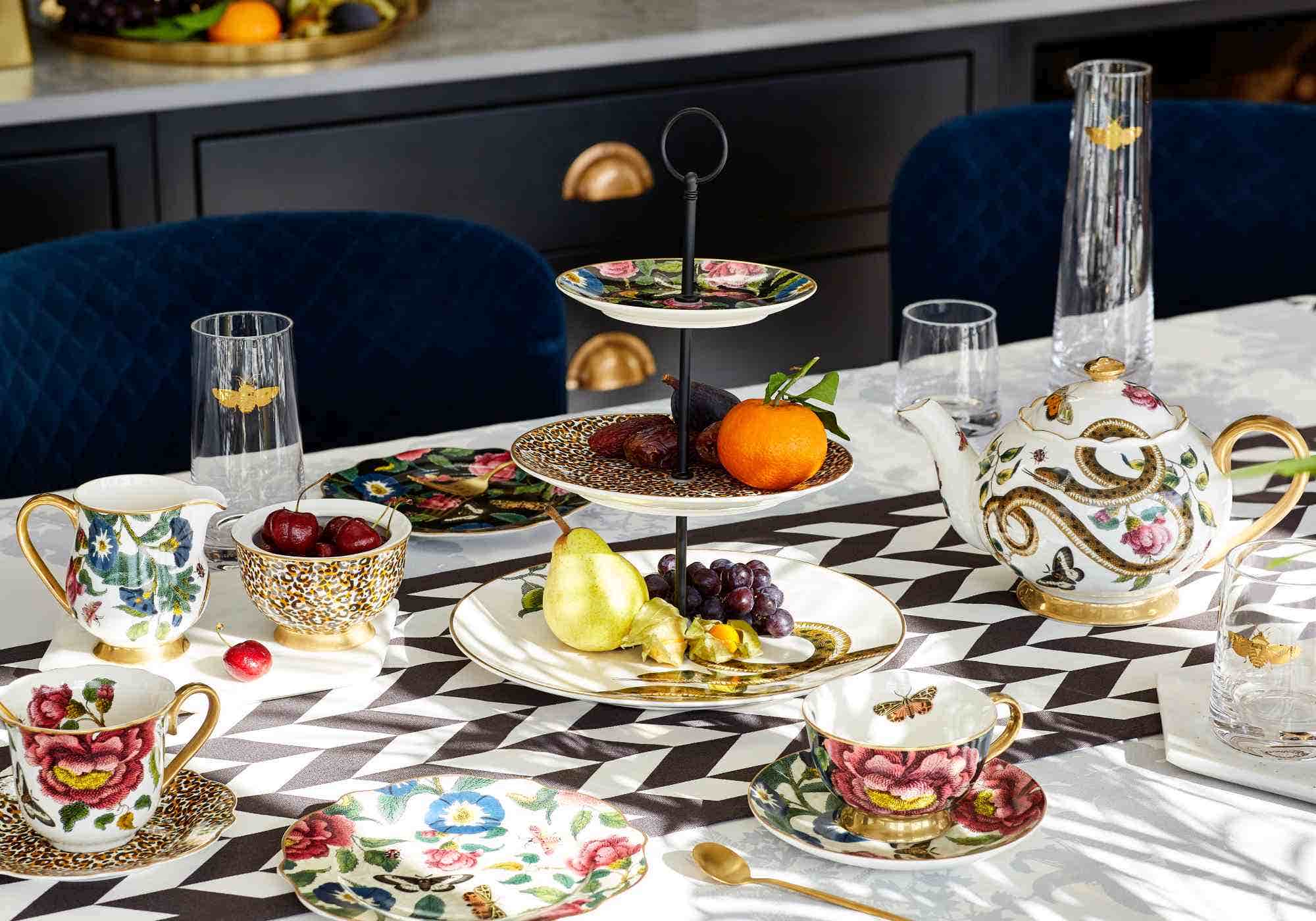 The Drinks Cabinet
Elevate your drinks cabinet or bar cart to the next level with glassware that makes a statement. Add tumblers, high balls, wine glasses and a carafe to your set-up so you're always ready to unleash your inner mixologist whenever the mood strikes.
The clear glass is beautifully finished with a striking gold stem on the wine glasses, and a moth detailing on the other pieces for a touch of intrigue. Serving your cocktails can be done in style too with our birchwood trays available in three different sizes, featuring the signature floral and leopard print designs.
The Living Room
Our favourite place to relax, ensure the space you unwind the most in is inviting and somewhere you want to be. Layer textiles for a cosy feel, alongside flickering candles and soothing scents. Our Creatures of Curiosity diffusers are not only perfect for filling your space with a relaxing scent, but styling shelves, mantles, and side tables too. And a must-have for keeping precious furniture pristine, our mix and match coasters add an additional layer of texture, while helping to effortlessly flow your eclectic style through the home.
The Bedroom
Easily refresh your space with updated accessories. Cushions of different shapes, sizes and styles can instantly revive a bedroom, adding a luxurious and relaxing feel without a lot of effort. Keep your bed linen neutral and allow the cushions to add the colour. We love the soft velvety feel of the Creatures of Curiosity feather-filled cushions and the statement block colour that pops out from the underside to contrast with the pattern.
Continue the luxurious hotel vibe with scented candles to ensure your sanctuary smells as good as it looks. Our set of three votive candles each features a different design and indulgent fragrance, and once burnt down can be re-used as trinket pots. Style on your dressing table alongside the matching cosmetics bags perfect for housing lotions and potions.
The Study
Make those virtual meetings nothing but a joy with a Creatures of Curiosity notebook by your side. With two sizes and four different designs to choose from, if you weren't stationery obsessed before, you will be now. For a dreamy office set-up, pair with the floral and leopard laptop case and matching travel mug and water bottle.
Is the maximalist trend for you? For more inspiration on how to bring the more-is-more style into your home discover our Zoological Gardens collection.