Festive décor for a fantastical Christmas
The season of fantastical celebrations is nearly upon us, which means it's time to start setting the scene with décor and accessories that ensure the most memorable of occasions. From colourful tree decorations and joyful tableware to sparkling glassware and charming ornaments, we're here to help you spruce up every shelf and surface this Christmas with all the festive flourishes.
For the tree
We've been decorating trees for Christmas for as long as we can remember, dousing them in twinkly lights, baubles and tinsel for the ultimate festive centrepiece. However, when it comes to tree decoration, we all have different ways of doing it - some opt for a new look each Christmas depending on what's trending, while others get many years out of their decorations, adding just one or two new ones to their collection each year. Whichever your preference, there's a Spode bauble to suit your needs.
For a unique touch of colour and fun to your tree, look no further than Kit Kemp. Hang vibrant pink, turquoise and yellow bone china baubles from the branches with the Calypso and Rik Rak baubles or add a quirky elephant, turkey or dog decoration for something a little different. These animal-shaped decorations are also perfect for celebrating first Christmases and can be treasured for years to come.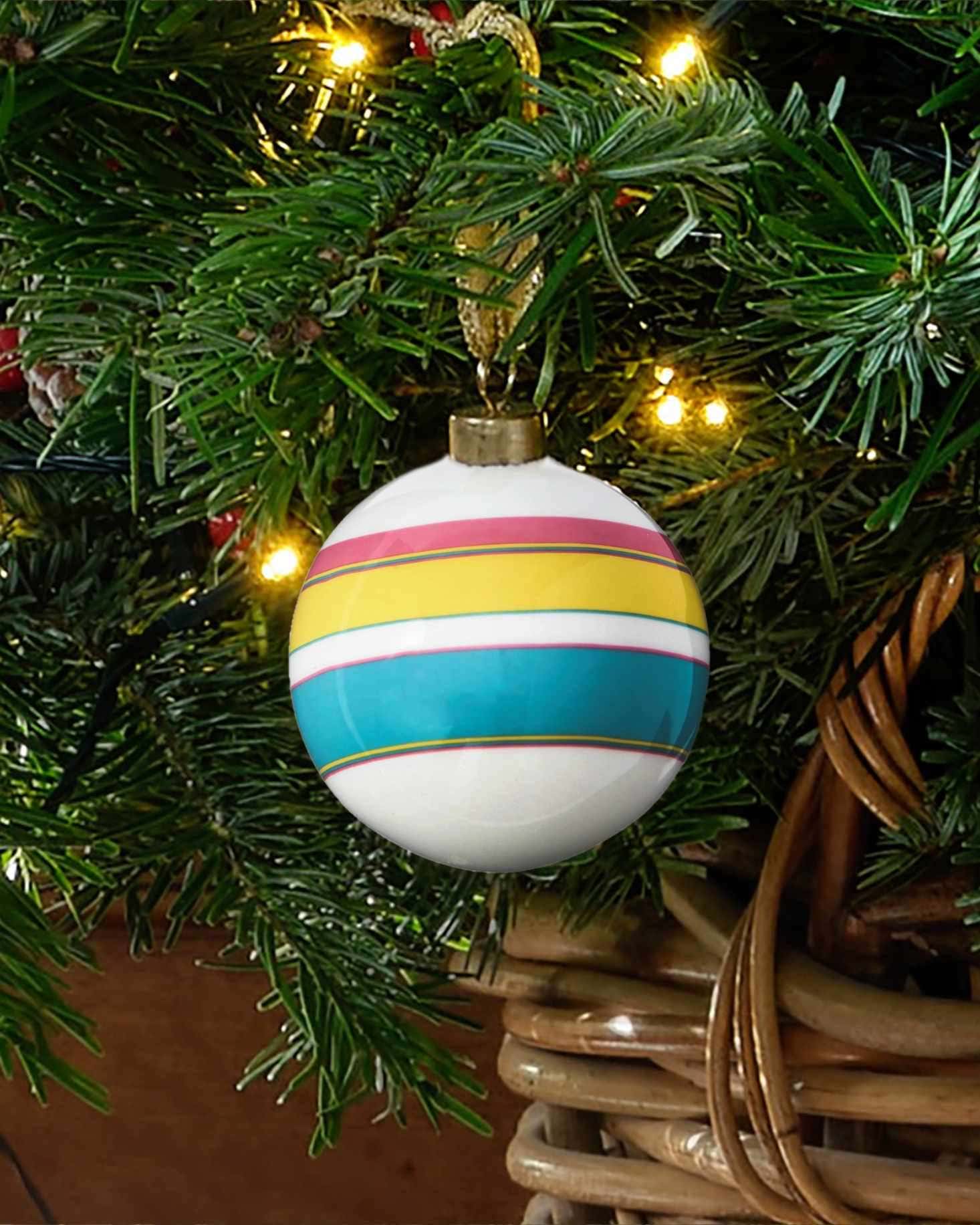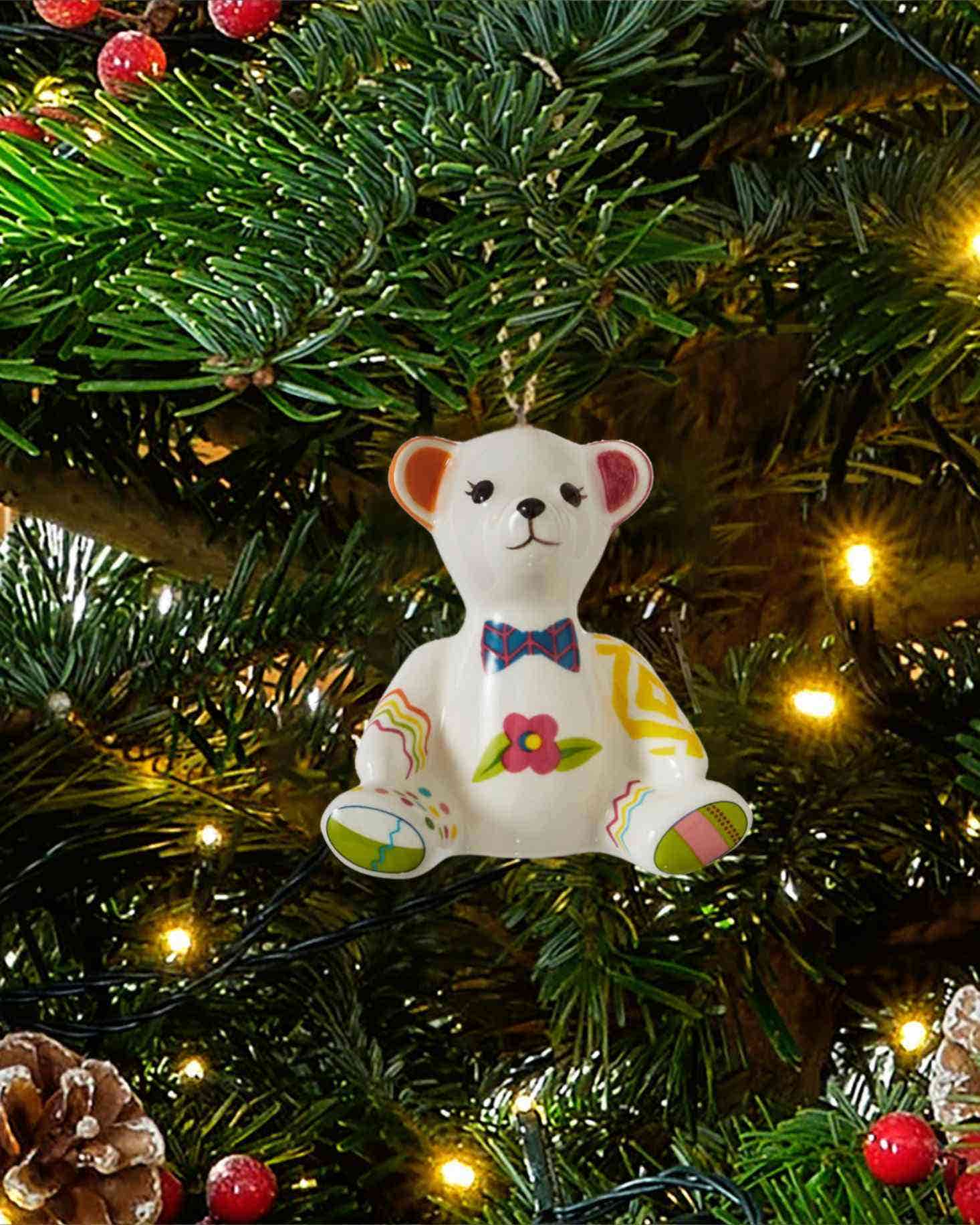 If your festive style is more vintage-led, our Christmas Tree decorations are made for you. Choose from simple star and snowflake shapes or add a touch of festive magic with our detailed figural ornaments. Among the collection is a charming nutcracker and snowman carrying a miniature Spode Christmas Tree, a red truck bringing home the tree in its trunk, or a set of 3 tea set ornaments, which include a mini teapot, jug and teacup that are truly irresistible.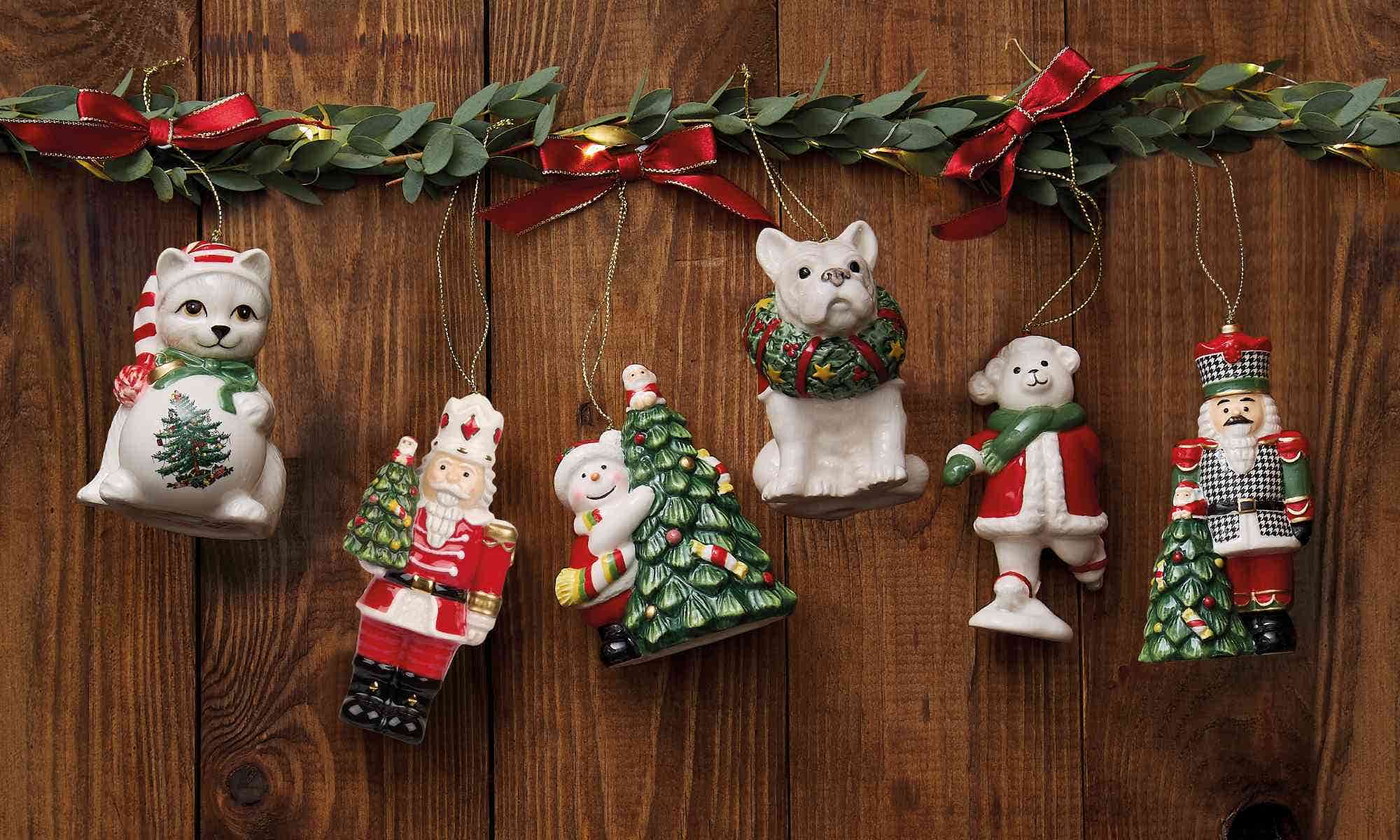 For a classic addition to your tree that will never go out of trend, add the new Blue Italian decorations to your bauble box. Featuring the iconic 200-year-old pattern beautifully re-imagined, this is the first time in Spode's history that Christmas decorations are available in our timeless blue and white collection. Perfect for Blue Italian collectors, lovers of heritage style and those who lean more towards a sophisticated aesthetic.
For the dining table
Now, it wouldn't be Christmas without a festive inspired mug or novelty salt & pepper set to add a sprinkling of joy across your dinner table. But, if you're anything like us here at Spode, a generous splash is far more preferred, and the Spode Christmas Tree collection is our go-to tableware to do just that.
Turn your table into the most magical of settings with matching plates, bowls, platters and serveware all proudly showcasing the iconic Christmas Tree design. There are soup plates for starters, a sauce boat for your gravy, an oval platter for the main centrepiece and tree-shaped dishes and serving bowls for all the extra trimmings. And not to forget a matching children's tableware set so that nobody misses out on the joy of Christmas Tree.
If you're looking to celebrate Christmas with friends a little differently this year, a festive-inspired afternoon tea will do just the trick. As well as adding a seasonal touch to the menu with spiced fruit scones and mince pies, why not add a festive twist to the crockery too? Our Doodles collection from Kit Kemp features a cake stand, dessert tray, tidbit plates and mugs all featuring a Christmas twist to bring festive cheer to your celebrations.
For the living room
We know for many, the living room is the ideal spot for the all-important Christmas tree, but why stop there when it comes to decorating the space? During December we don't think there should be a shelf, mantlepiece, coffee table or windowsill safe from a festive spruce. Don't you agree?
For a sophisticated nod to Christmas, our Blue Italian decorative cones are a magnificent addition. Whether styled alone in different corners of the room or together as a statement piece, the timeless blue and white decorations will add something special to all interior styles.
If you're looking for a more obvious nod to Christmas with your decorative accessories, the Christmas Tree Nutcracker Candles add a charming touch to fireplaces, sat amongst your hanging stockings. And for the full Spode Christmas Tree experience, set out your own Spode village with our delightful figural ornaments, including a train station, shops, church and village carolers.
For the home bar
Whether it's a dedicated kitchen cupboard, bar cart or drinks cabinet you have available to store your tipples, make sure you don't forget to include it in your festive spruce. When adding to your drink selection, switch out your glassware for something a little more suiting to the season too. Our Christmas Tree collection has everything you need - goblets for mulled wine, tumblers for whiskey, highball glasses for classic snowballs and champagne flutes for toasting. There's also a charming glass pitcher perfect for non-alcoholic cocktails.
Now you have all the inspiration for turning your home into a winter wonderland, it's time to start planning the festive takeover. We'd love to see how you style the Spode collections in your home, make sure you tag us in your posts on social.