Best ideas for serving breakfast in bed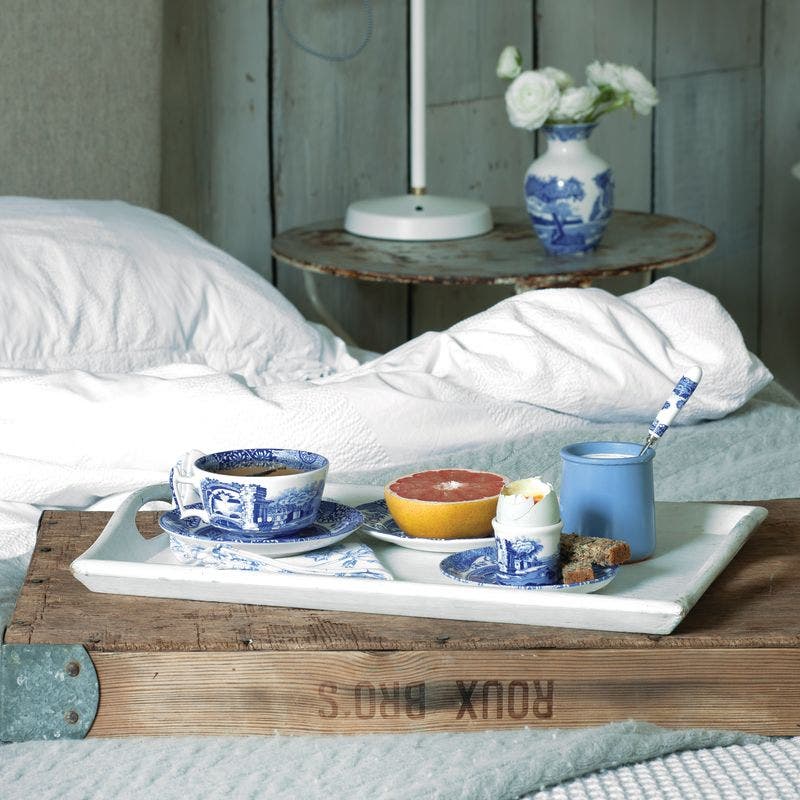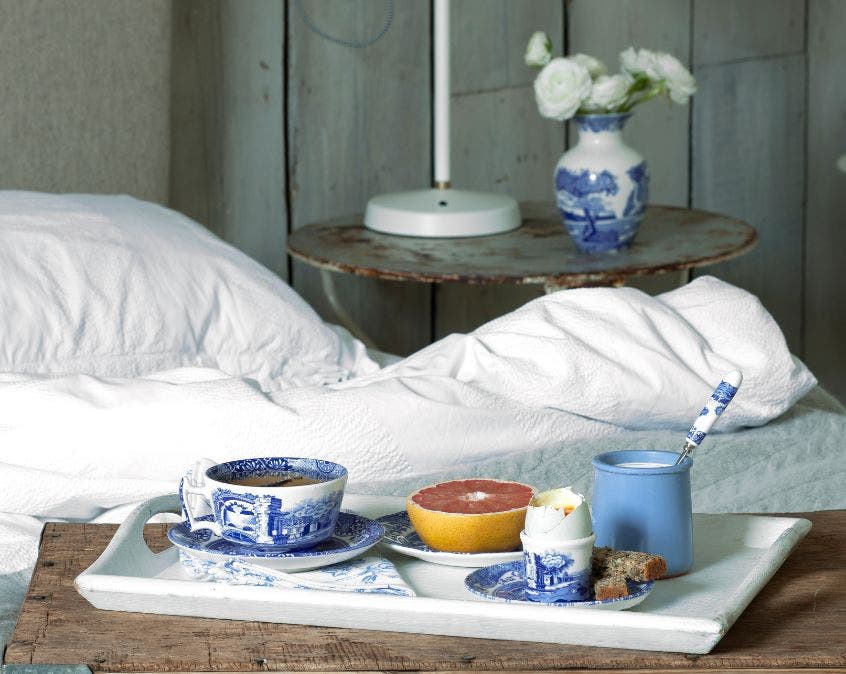 How to Serve a Stylish Breakfast in Bed
There's nothing more indulgent than breakfast in bed and at Spode we always like to up the ante with stylish serving suggestions. Forget toast and cereal we've got some seriously good breakfast in bed ideas that will show your loved ones just how much you care. 
If you're planning a midweek breakfast in bed treat and you're short on time but want to go big on style, then a beautifully presented bowl of overnight oats is always the answer. Choose your favourite Spode bowl (our Pure Morris Strawberry Thief cereal bowl is just the right size…), add four tablespoons each of oats, milk and plain or flavoured yoghurt and stir well. Cover and chill in the fridge overnight. In the morning, give it another stir and top with a generous portion of berries, a sprinkling of seeds and a few edible flowers. Pretty, super healthy and oh-so simple.

This one is easy to adapt for vegans – just replace the milk and yoghurt with a plant-based alternative – we like coconut milk with ours. Add a handful of dark chocolate shavings, some slices of banana and fresh mango and top with toasted almonds for a Caribbean-inspired feast.

You can't go wrong with a buttery croissant and a freshly brewed cup of coffee. If there isn't time to dash to your local bakery then fake it with a frozen pastry, cooked to perfection in the oven. Serve up on our stunning Blue Italian collection as shown off here by @corneliasinterior
If you're going all-out, only a full cooked breakfast (and a bottomless mug of tea) will do. A big breakfast requires a well-proportioned tray, and our Morris & Co. by Pimpernel Privat large handled tray is elegant, hardwearing, and easy to clean.
So, what constitutes the perfect fry up? The options are endless, but if you want to play it safe, start with the basics - bacon, eggs, sausages, beans, tomatoes, and hash browns, and don't forget the sauce. Black pudding will always divide the crowd. Serve on your breakfast in bed tray with mix and match Morris & Co. pieces such as our Honeysuckle teapot, Blackthorn mug and Golden Lily dessert plate piled high with hot, buttered toast. Make it a vegan cooked breakfast with mushrooms, meat-free sausages and scrambled tofu. Or go fully continental which was the preference for our friends @bakinglifestylebysus as modelled here.
Don't wait for Shrove Tuesday, pancakes are always sure to please, especially when they're topped with bacon and maple syrup or whipped cream and fruit or Nutella or…we could go on. Whatever topping takes your loved one's fancy, make sure they're well-flipped and served with a dollop of inimitable Spode style. Present on one of our boldly divine Creatures of Curiosity dessert plates and pair with a darkly exotic floral mug of coffee from the same range for an on-trend twist on a classic. Go gluten-free with pancakes made from buckwheat, chickpea or millet flour.
We'd love to see your unique take on breakfast in bed so please tag us in your posts @by_spode.