How to create afternoon tea at home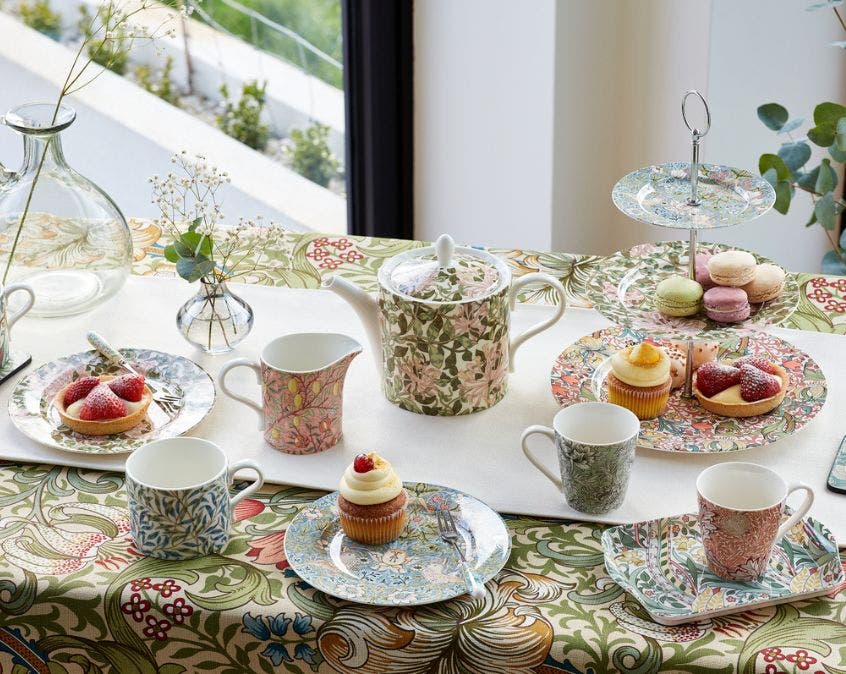 How to create an unmistakable afternoon tea at home
Calling all afternoon tea lovers, this is your chance to shine!
Why go out for afternoon tea when you can create something extraordinary at home? Whether you're looking for ways to elevate your table, add a little vintage style or bring a personal touch to your celebration, we've got some unique afternoon tea ideas for those who like to go the extra mile and do things differently.
Every afternoon tea needs treats but should always (and we mean always) include homemade scones. If you're a confident tablescaper but a terrible baker, fear not, we've got an easy‐to‐follow scones recipe that will make your afternoon tea stand out. And if you're feeling really adventurous, then why not try making your own jam? We've got a quick and simple recipe for a scrumptious strawberry jam – perfect for serving with lashings of clotted cream (and slathering on your toast the next morning). You could serve them up using our Blue Italian tableware range as seen below.
And we don't mean clothes, your afternoon tea deserves to be seen. Set the scene with an elegantly layered tablescape.
Mix but don't match and draw the eye with a stunning centrepiece like our Morris & Co. 3‐Tier Cake Stand. Featuring three iconic designs – Strawberry Thief, Honeysuckle and Golden Lily – in a gorgeous pastel palette, it's a real showstopper and will be the focal point of your get together. Accessorise with sweet treats and other pieces from the glorious collection including our Honeysuckle teapot and Golden Lily sugar bowl, and let your table do the talking.
Afternoon T with ice and a slice
For a trendsetting take on a classic, try replacing traditional tea with something a little livelier. What could be more fun or stylish than serving up fragrant gin and tonics in delicate cups and saucers, hand poured from your favourite Spode teapot? Be bold and show everyone your wild side with our extraordinarily beautiful Creatures of Curiosity range and take afternoon tea to early evening cocktails in an instant.
If you're looking to add a little vintage va va voom, we've got everything you need to stage an afternoon tea at home steeped in English history, from cake plates and pastry forks to teapots and trays. Nothing says heritage quite like a classic piece of Spode from our Morris & Co collection. Featuring some wonderfully nostalgic William Morris designs including Honeysuckle, Blackthorn and Strawberry Thief, each piece in the range will bring a lovely touch of cottagecore to your tea.
Or if you prefer a vintage vibe with a modern twist then choose our Creatures of Curiosity collection. Inspired by the Victorian fascination for all things wild and wonderful, and drawing on Spode's illustrious archive, it's a mix and match range full of dark, edgy florals, exotic wildlife and beautiful butterflies. It's ideal for fashionistas who like to combine timeless style with on‐trend tableware.
NB: If you're serving up a slice of Spode style with your afternoon tea, then do tag us in your photos for the chance to be featured on our Instagram feed.