How to Make Mince Pies
Whip up these delicious festive treats and impress your guests this Christmas.
Mince pies are a staple throughout the festive season. And homemade mince pies definitely put shop bought ones to shame, right?
Spoil your family this Christmas with these delicious treats. Filled to the brim with lightly spiced fruit and enclosed with the crumbliest of pastry – yum!
Stuck for time? See our tips below.
Serves: 16
Prep time: 45 minutes
Cook time: 20-25 minutes
---
Ingredients:
- 1 large jar of mincemeat
- 2 satsumas, segments chopped in half
- Zest of 1 lemon
- 1 tsp mixed spice
- Icing sugar – for dusting
For the pastry:
- 375g plain flour
- 260g unsalted butter, softened
- 125g caster sugar, plus extra for sprinkling
- 1 large egg, plus 1 beaten egg for glazing
Method:
1. Place the plain flour and softened unsalted butter in a bowl and rub together to a crumb consistency.
2. Add 125g caster sugar and 1 large beaten egg, and mix together.
3. Tip out onto a lightly floured surface and fold until the pastry comes together - be careful not to over mix.
4. Wrap the pastry in cling film and chill for 10 minutes in the fridge.
5. Scoop the mincemeat into a bowl and add the chopped satsumas, lemon zest and mixed spice.
6. Heat oven to 220C/200C fan/gas 7.
7. Roll out the pastry to 3mm thick.
8. Using a round cutter (about 10cm), cut out 16 bases and place them into muffin trays. Put 1-2 tbsp mincemeat mixture into each. Brush the edge of each pie with a little beaten egg.
9. Re-roll out the pastry to cut out 7cm lids and press them on top to seal.
10. Glaze with the beaten egg, sprinkle with the extra sugar, and make a small cut in the tops.
11. Bake the mince pies for 20-25 mins until golden brown.
12. Leave to cool before releasing them from the muffin trays and dusting with a little more icing sugar before serving.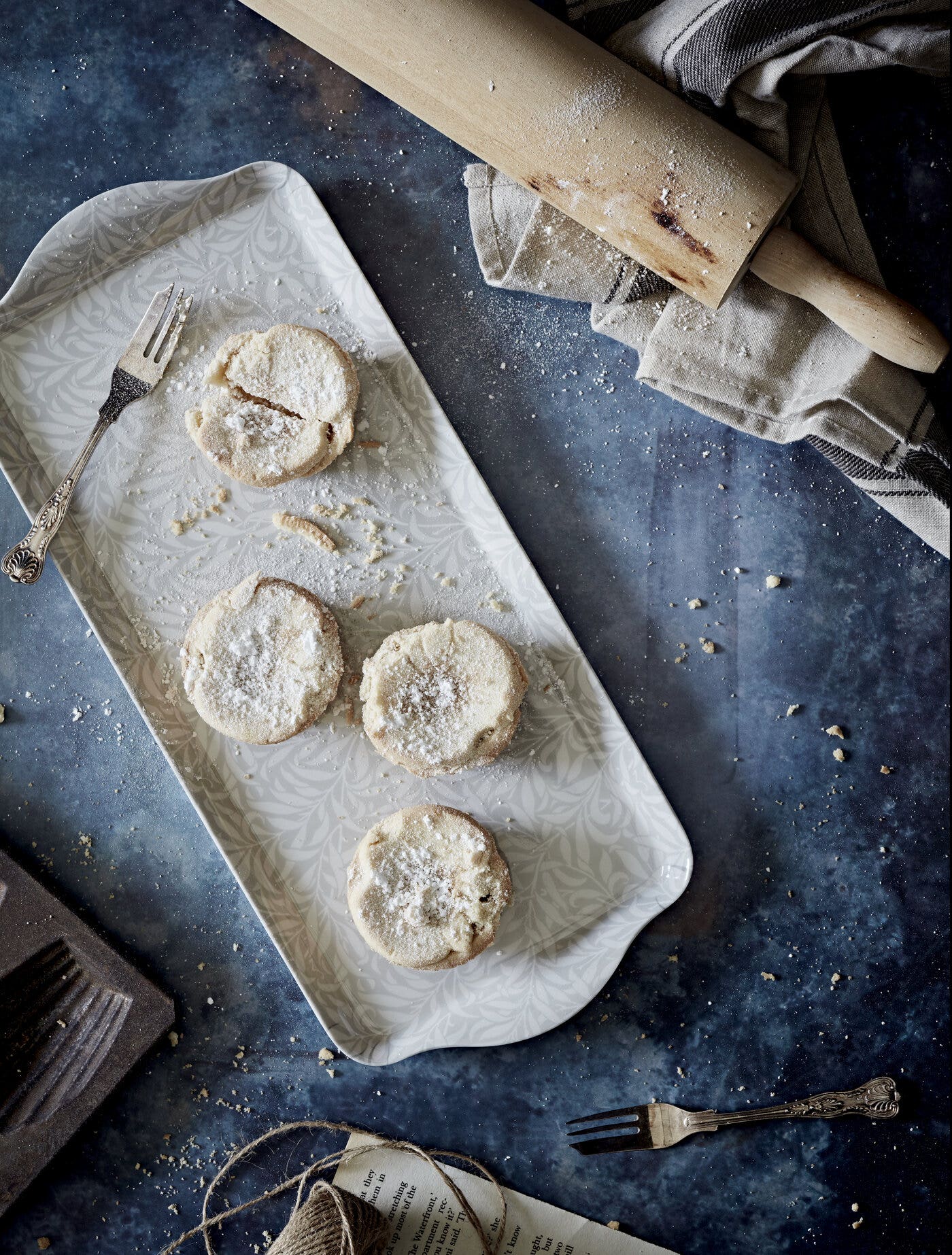 ---
Tips:
Make ahead and freeze - Once baked and cooled, place the mince pies in an air-tight container, with greaseproof paper in between the layers, and place in the freezer until ready to eat (up to 3 months).
To thaw the mice pies remove them from the container and stand on a wire rack at room temperature for an hour. They can be gently re-heated in a low oven (120c/250F) for 3-4 minutes before serving.
Show off your mince pies and pile them high on one of our cake stands.